A bipartisan group of senators joined President Joe Biden to announce a breakthrough in infrastructure negotiations today, revealing an eight year, $579 billion framework focused on core infrastructure needs. The deal includes $312 billion for transportation, including $66 billion for passenger and freight rail, $49 billion for public transit, $25 billion for airports, and $109 billion for highways and bridges.
With the bill only half written, there are still many details on how the money will be spent that need to be fleshed out. But after many months of acrimonious wrangling, the sense of achievement among negotiators at an event held in the White House Rose Garden was palpable.
"We applaud the excellent work done by President Biden and this bipartisan group of senators to provide desperately needed investment in our outdated and inadequate passenger rail system," said Jim Mathews, President and CEO of Rail Passengers. "Increased funding for passenger trains will benefit red states and blue states. By investing in upgraded and expanded rail corridors, we build better connections between big cities and small towns, ensuring that economic growth benefits all Americans."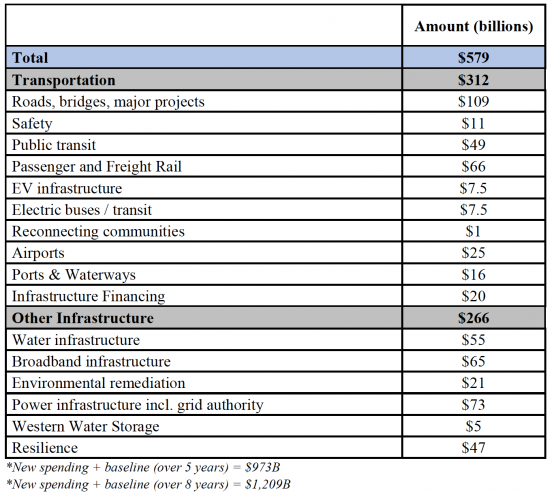 However, there are still significant obstacles to overcome.
The grab-bag of budgetary maneuvers that will be used to provide revenue for the bill—including special municipal bonds, levying fees on chemical polluters, enhanced enforcement of current tax law by the IRS to crack down on tax cheats, and others—will now need to be scored by the Congressional Budget Office.
Additionally, Democratic leadership has unified around the idea that the bipartisan infrastructure bill will move alongside a budget reconciliation package. This will allow Democrats to vote on broader priorities, such as investing in energy efficient and carbon free infrastructure, hardening infrastructure to provide resiliency in the face of climate change, and rebuilding schools and health care systems. Moderates like Senators Joe Manchin (D-WV) and Sinema (D-AZ) have signaled they're onboard with this strategy. Republicans, however, have already said they will oppose such a move, potentially destablizing the coalition needed in the Senate to pass the bipartisan proposal.
In short: there's still a lot of work to be done.
The bipartisan group is targeting next week to finish the language of its infrastructure bill. Once it is unveiled, we will have a better idea of what it means for America's passengers and Amtrak-served communities.
House Moves Ahead with Surface Transportation Bill
The full U.S. House will take up the INVEST in America Act (HR 3684) next week. This surface transportation reauthorization takes place on a regular cycle and exists separately from the bipartisan infrastructure deal.
The INVEST Act has an even more ambitious funding structure for passenger rail, along with a host of critical policy reforms that Rail Passengers has been hard at work to enact into law.
Ask your elected officials to pass the Amtrak funding and reform bill TODAY!

ACT NOW!

In advance of the floor action, the House Rules Committee (HRC) released a slew of amendments for next week's votes on H.R. 3684. Rail Passengers has identified key rail amendments, and our staff is working with allies on the Hill to secure positive outcomes. The HRC is scheduled to meet on Monday and Tuesday, which means voting is likely to start on Wednesday, so stay tuned for action alerts as we learn more information about which amendments are in play!
Amendments
Support
| | | | | | |
| --- | --- | --- | --- | --- | --- |
| 15 | Version 1 | Moulton (MA), Ocasio-Cortez (NY), Costa (CA), DelBene (WA), Strickland (WA), Espaillat (NY), Morelle (NY), Blumenauer (OR), Maloney, Carolyn (NY), Cleaver (MO), Titus (NV) | Democrat | Increases the PRIME program funding by $1 billion in each of fiscal years 2022 through 2026, for a total increase of $5 billion. | Submitted |
| 55 | Version 1 | Titus (NV), Moulton (MA) | Democrat | Amends the Railroad Rehabilitation and Improvement Financing program to add rail carriers engaged in high-speed rail activities under the eligible entities for credit risk premium subsidy payments. | Submitted |
Oppose
| | | | | | |
| --- | --- | --- | --- | --- | --- |
| 30 | Version 1 | Nehls (TX) | Republican | Strikes Division D of the bill (rail title). | Submitted |
| 47 | Version 1 | Perry (PA) | Republican | Prohibits the provision of loans or loan guarantees for high speed rail projects not in compliance with FRA tier III safety standards. | Submitted |
| 4 | Version 1 | Steel, Michelle (CA) | Republican | Prohibits Federal funding for the California High-Speed Rail. | Submitted |
| 144 | Version 1 | Perry (PA) | Republican | Prohibits the use of funds for Amtrak Network Expansion. | Submitted |