April 1, 2022

For Immediate Release (22-04)
Contact: Madison Butler, mbutler@narprail.org
Rail Passenger Announces New Board Chair Meredith Richards and Volunteer Leadership

Alexandria, VA – The Rail Passengers Association's volunteer leaders elected former Charlottesville Deputy Mayor and City Councillor Meredith Richards to a two-year term as the Chair of the Association's Board of Directors – the first woman to hold this position in the history of the organization.

Richards is President of the Virginia Rail Policy Institute, and former President of Virginians for High Speed Rail, and received overwhelming support from the majority of voters during the Association's first hybrid election. Richards produced a series of campaign videos platforming her strategic vision for the future of the Association. "I've been a leading rail advocate in the state of Virginia during a time when Virginia itself was becoming a national leader, launching a $4 billion, transformative program of initiatives in passenger rail in 2019." Richards stated in her campaign message to members. Key internal objectives for the Association moving forward under Richards' direction include prioritizing volunteer committees under staff direction, galvanizing communications with state passenger organizations, and continuing to build our Diversity, Equity, and Inclusion platform.

"All of us on the professional staff are looking forward to working closely with Meredith to advance an energetic passenger rail agenda," said Jim Mathews, President & CEO of the Association. "She brings a depth of knowledge and experience not only in advocacy but in public elected service, which will be vital as we work in the next few years to realize the benefits of the Bipartisan Infrastructure Law in communities all across the country."

"We are so fortunate to have a visionary like Meredith exemplifying the best qualities of our membership base as this Association truly moves forward in creating a connected America" stated Communications Manager Madison Butler. "After our staff, members, and supporters have fought so tirelessly securing $66 billion for public transit improvements and establishing clear lines for Amtrak accountability, it is invigorating to have a member of Meredith's caliber representing the voice of the passenger."

Vice Chairs from across the nation were also selected, including Harvey Bowen of Washington, Thomas Girsch of Massachusetts, Bruce Ashton of Texas, and Ken Joseph of Pennsylvania. Cliff Dunn will remain as Secretary, as he and Treasurer Ken Clifford both ran unopposed.

Long time advocate, cyclist, and regional powerhouse, Vice Chair Bruce Ashton shared his unique perspective on becoming a member of RPA leadership during a historic time for both local transit and Amtrak. "Now is not the time to think that we succeeded because we have federal support. Now is the time for us as members to take our message to local officials, pressing them to step up. Mayors must tell Amtrak, Federal, and State Representatives what we need with this once in a lifetime opportunity to advance Passenger Rail in the United States."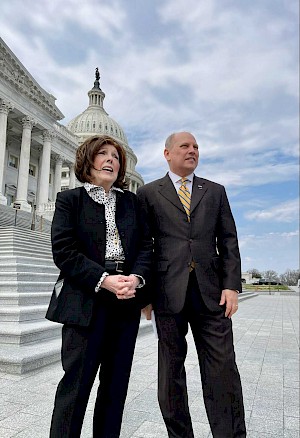 Newly Elected Rail Passengers Chair Meredith Richards, left, and President & CEO Jim Mathews wait to present Congressman Peter DeFazio (D, OR-4) with the Association's Golden Spike Award on the Capitol steps (March 30, 2022. Photo credit: Rail Passengers Association)

###

About Rail Passengers Association

The Rail Passengers Association is the oldest and largest national organization serving as a voice for the more than 40 million rail passengers in the U.S. Our mission is to improve and expand conventional intercity and regional passenger train services, support higher speed rail initiatives, increase connectivity among all forms of transportation and ensure safety for our country's trains and passengers. All of this makes communities safer, more accessible and more productive, improving the lives of everyone who lives, works and plays in towns all across America.