Remember back in November when we shared a few glimpses of the new Amfleet replacements, we told you we couldn't wait to show you more? Well, today was the day – in an event I attended in New York City's Moynihan Train Hall, Amtrak introduced the world to the new InterCity Trainsets, called Airo.
I personally participated in all three mockup design reviews hosted by the development team this year working to finalize the interiors, and as I've said all year long this team has done a superlative job to incorporate as much passenger feedback as possible. The result is a truly beautiful trainset which will take good care of passengers when it begins to enter service in 2026.
The Cascades will get the first trains during the five-year rollout period. Then they'll start running on other state-supported services and in the Northeast Corridor, replacing Regional consists. In addition to the Cascades and the Regionals, these new trainsets are expected to run on the Palmetto, plus the state-supported Adirondack, Carolinian, Downeaster, Empire Service, Ethan Allen Express, Keystone Service, Maple Leaf, New Haven/Springfield Service (Amtrak Hartford Line and Valley Flyer), Pennsylvanian, Vermonter, and Virginia services.
Amtrak showed a video during today's event for national and trade press reporters highlighting the design features and the interiors, including Business Class, Coach Class, and the Café Car. The attention to detail has been impressive throughout this process, right down to making sure that stitching in the seat backs echoes the abstract shape of the train tracks in Amtrak's logo. These seats are spacious, comfortable, and feature-packed, with lighting, at-seat power, and places for devices, food, cups, and everything in-between.
The video got a lot of oohs and aaahs, not just from those at the event itself but from dazzled travelers below in the Moynihan hall who got to see the video as it was simultaneously played on the Jumbotron screens in-between ads for fashion brands and television shows.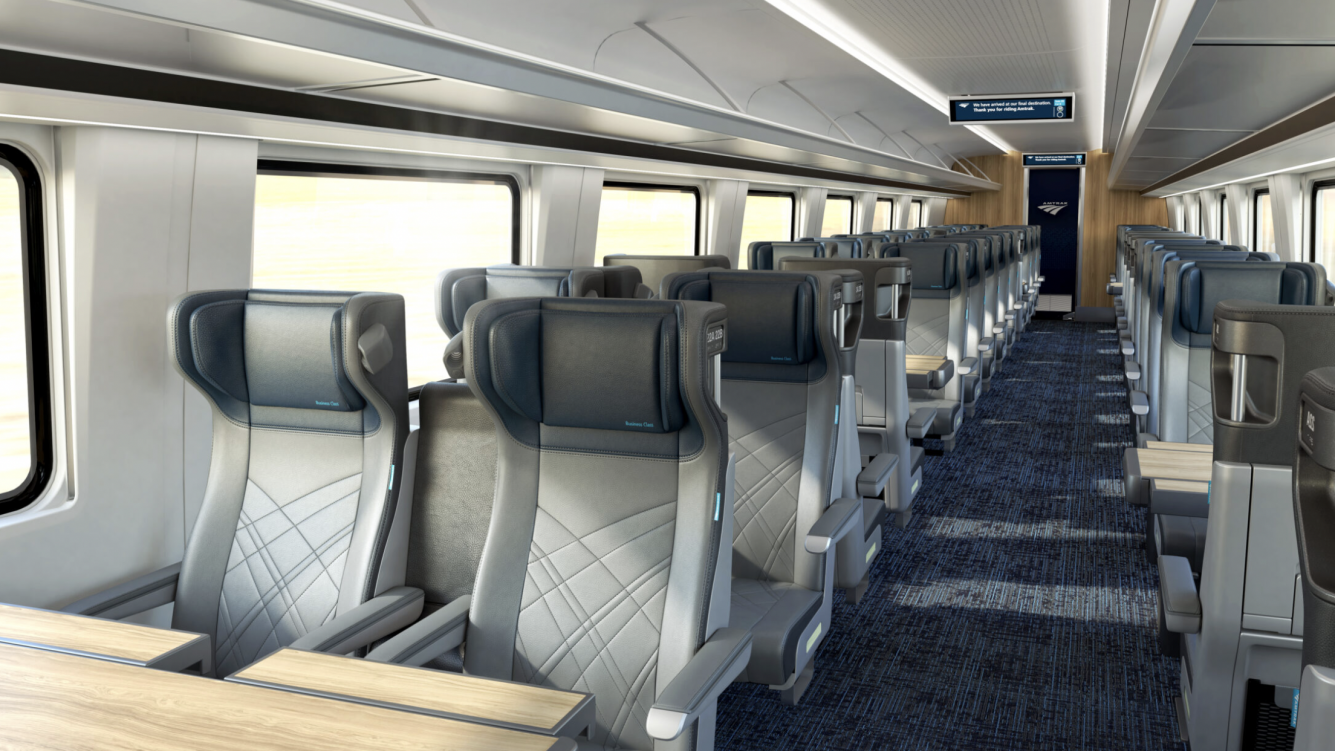 Passengers will enjoy panoramic windows, more legroom, touchless restrooms, and multiple ways to get food and beverages aboard the train – whether you want help from a Café Car attendant or just want to self-serve with a grab-and-go. Passengers will also appreciate the results of some of the technology improvements: higher speeds mean a quicker ride, and the dual-mode power system means no more waiting around for changing locomotives between overhead catenary and diesel in places like Harrisburg, PA, or Washington, DC.
New trains will also mean more capacity, and that should mean better fares and more availability.
It's worth repeating that the design team paid extra attention to taking better care of the disability community, with innovative ideas for tables and companion seating and overall much more capacity to handle powered wheelchairs and the like on each and every trainset. Take a look at my November blog post linked above to see a great photo I took of how a great design will now allow two wheelchair passengers to travel together, sharing a table and the ability to sit across from each other.
Siemens has already started making the Airo car shells, and by next Spring the first actual train car should be in final assembly at Siemens' Sacramento plant. Realistically, we're probably about 18 months away from a complete first trainset with full interiors. Design reviews started last summer, almost immediately after Amtrak announced the $7.3 billion deal for at least 83 and as many as 213 dual-power (diesel and AC catenary) trainsets.