For Immediate Release (21-19)
Contact: Sean Jeans-Gail (202) 320-2723; sjeansgail@narprail.org
New Regional Plan Charts Future of Midwestern Passenger Rail Network
Chicago, Illinois — Rail Passengers Association joined the Federal Railroad Administration (FRA), Amtrak and representatives from a half dozen midwestern states at Chicago Union Station today for the unveiling of the Midwestern Regional Rail Plan. The document will help the federal government and states coordinate infrastructure investments to upgrade and expand the region's passenger rail network, helping midwestern states compete for $66 billion in federal rail funding in the bipartisan infrastructure bill currently before Congress.
The 40-year blueprint was crafted over the course of four years and involved the input of 12 state departments of transportation, Amtrak, freight railroads, rail passenger advocacy groups, along with many others. It provides an assessment of existing and future travel demand for city-pairs and the network and recommends a governance structure to allow for effective coordination across state lines (building on the Midwest Interstate Passenger Rail Commission). It also offers recommendations to minimize capital and operational costs while maximizing benefits, identifies potential funding sources, and proposes principles to help transportation officials to determine which corridors to prioritize in early rounds.
"Rail Passengers applauds the work done by the FRA, the midwestern states and Amtrak, and we were pleased to represent the voice of passengers in this planning process," said Rail Passengers President Jim Mathews. "The midwestern passenger rail network is a geographically sprawling and operationally complex system of interconnecting corridors, connecting hundreds of socially and economically diverse communities. It ranges from Pittsburgh to Fargo, from Wichita to Toronto, and from Green Bay to Nashville. It would be prohibitively difficult to efficiently build out this system without planning and funding assistance from the federal government. The Midwestern Regional Rail Plan and the Investment in Infrastructure and Jobs Act are the one-two punch we need to meaningfully expand passenger rail capacity, giving tens of millions of Americans access to a safer, more convenient, and energy-efficient mode of travel."
The study includes an assessment of existing and potential rail corridors in Illinois, Indiana, Iowa, Kansas, Michigan, Minnesota, Missouri, Nebraska, North Dakota, Ohio, South Dakota, and Wisconsin. The blueprint envisions a framework of high-capacity rail lines originating from the Chicago hub—with spokes radiating out to Minneapolis, St. Louis, Indianapolis, and Detroit. Conventional-speed corridors feeding into these four pillars will also be modernized and expanded. Building out an interconnected network that maximizes ridership, providing alternatives to congested roadways and airports. This in turn will increase transportation safety, generate economic growth, improve environment sustainability, and enhance community livability.
You can access the full report here.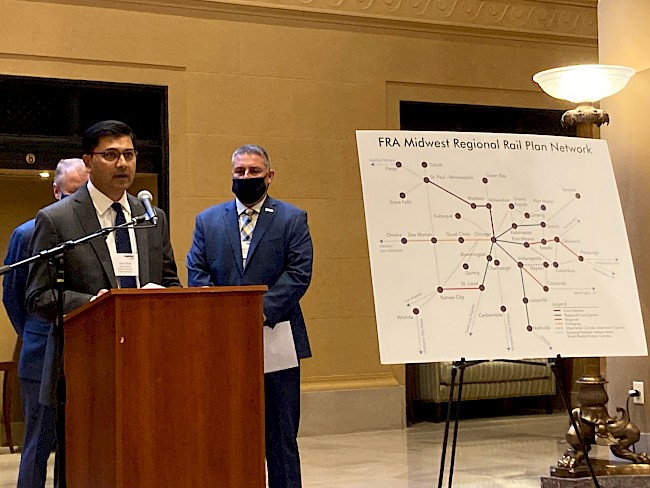 ---
About Rail Passengers Association
The Rail Passengers Association is the oldest and largest national organization serving as a voice for the more than 40 million rail passengers in the U.S. Our mission is to improve and expand conventional intercity and regional passenger train services, support higher speed rail initiatives, increase connectivity among all forms of transportation and ensure safety for our country's trains and passengers. All of this makes communities safer, more accessible, and more productive, improving the lives of everyone who lives, works, and plays in towns across America.