Sigh.
As we slouch toward beginning a third year under the shadow of the worldwide coronavirus pandemic, it looks as if Amtrak had to cave in on service cuts to cope with fewer staff in just about every craft it needs to get trains out of the barn and on to the railroad.
Amtrak told us this morning that they were going to have to shave off as much as 8% of their operations between the end of this month and late March, blaming Omicron illnesses and quarantines for reducing the availability of on-board service staff, conductors, engineers, and even back-shop mechanics.
I've vociferously criticized Amtrak before for ill-advised cutbacks, both in public and in Congress (click on the links to look here from last Fall, or here a year earlier). But this time Amtrak is doing the best it can with a bad hand, replacing unpredictable ad hoc service disruptions when staff call in sick with an orderly reduction that won't leave passengers stranded high and dry.
I myself, and I'm positive many of you, have experienced what happens when Amtrak suddenly cancels service or annuls a train while you're traveling. It's something Amtrak is not good at. I can think of at least two instances in the past four years when an enormous freight-train interference delay made me miss a connection, and Amtrak left me without a substitute, without lodging, and without a refund.
Amtrak says it will trim 8% of Northeast Regional departures between January 24 and March 27, and 6% of state-supported departures in that same timeframe. On the long-distance side, Amtrak is cutting back on the Chief, the Zephyr, the Builder, the Starlight, the Crescent, the Eagle, the Capitol, the Lake Shore, and the City of New Orleans. But they're cutting back to five times weekly service from seven, rather than all the way back to the generally useless three times per week. It's disappointing but given that some two dozen U.S. states are seeing hospitalizations that are pushing hospitals to their breaking point, this was all probably inevitable.
Let's face it, when coronavirus keeps critical staff off the job stranding Grandma on a rural platform at two in the morning is not the right answer. I appreciate that instead of just reflexively whacking long-distance trains back to three times per week, Amtrak looked across the crew bases to try to understand the staffing trends and tried to cut back as minimally as possible.
The temporary cutbacks will be in the reservation system and scheduled, rather than being an unpleasant surprise. And Amtrak is promising that those who are already booked will either get re-booked or refunded. Management is also going to keep looking at the staffing trends and pledged today that if they can restore service sooner, they'll do so. That's a much better answer.
This situation should also underscore why we in the rail community can't pretend that Covid and vaccination and masking and public health are purely political issues we should simply steer clear from. This decision by Amtrak management reflects the reality that even if the 'Omicron' Covid variant is less deadly than previous strains, its rapid spread, and the illness it provokes are still fully capable of disrupting the economy and the everyday lives of ordinary Americans, including everyone who takes trains.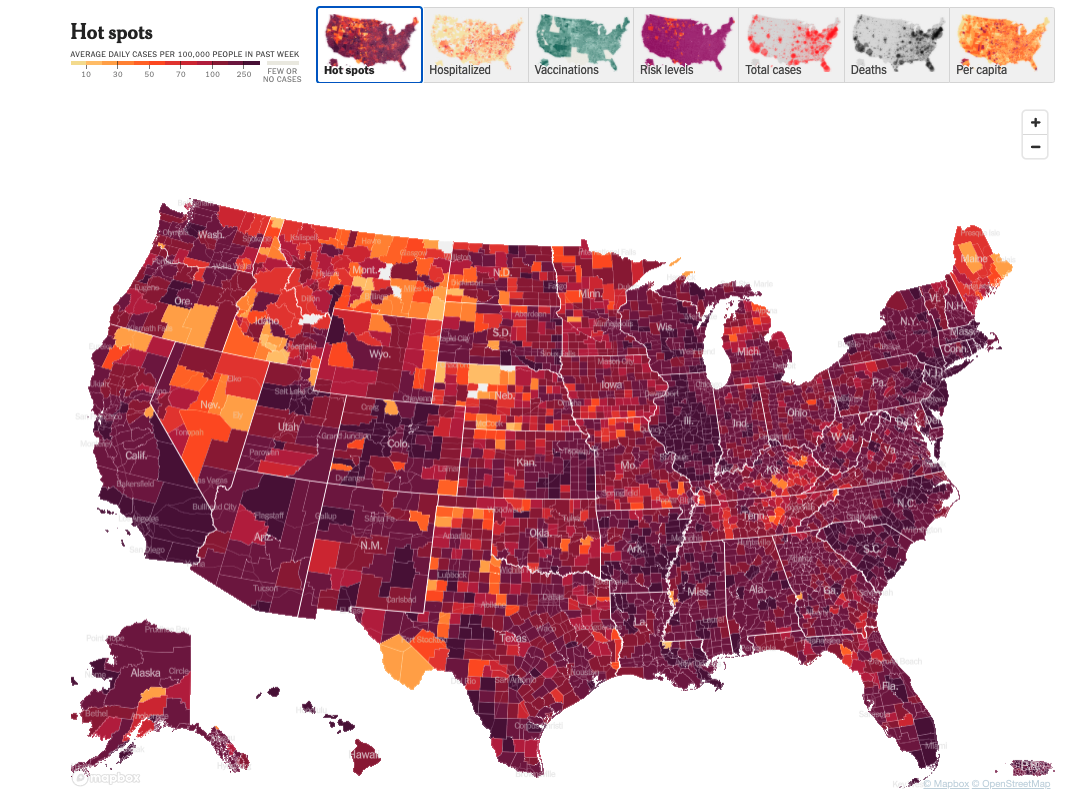 Airlines continue to cancel thousands of flights, U.S. air traffic control centers have had to periodically throttle back operations in certain sectors because controllers called in sick, and warehouses with vital supplies remain full because there aren't enough staff to empty them and get those supplies on their way to stock empty store shelves. This is a nationwide problem, not just an Amtrak problem. If you don't believe me, look at the map we've included here and think about where the crew bases are.
Of course, we're going to keep an eye on what's happening and if we see any signs that things aren't what they seem, we'll call it out, just as we did in the summer of 2020 and this past fall of 2021. You should, too. Let us know while you're riding the trains by dropping us an email at narp@narprail.org. But in the meantime, let's all do what we can together to slow the spread of this disease – which is 7.2 times more deadly than the flu or pneumonia and 11 times more deadly than car crashes. We're all tired of it and want things to be normal again, but until people stop dying from Covid in record-shattering numbers it's going to affect all of us, including our train service. Let's hope these disruptions are shorter than expected.